STILLWATER – Oklahoma State equestrian senior Samantha Harrison was named Big 12 Equitation on the Flat Rider of the Month for February, the conference announced today.
Harrison competed in three matches this month and was undefeated. Harrison scored an impressive 90 when she defeated Auburn's Tory Hoft, 90-83. Against TCU, Harrison picked up her fifth win of the season in the event over Caitlin Ader. Her score earned her Most Outstanding Performer honors and it was her second of the season in the discipline.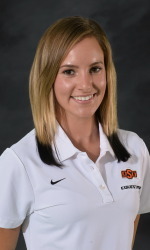 She was also named National Collegiate Equestrian Association Rider of the Month for January in the equitation on the flat event.
Harrison and the Cowgirls (6-3) take on Texas A&M (2-7) on Saturday, March  8 at 10 a.m. in College Station, Texas, at the Hildebrand Equine Complex.
Reprinted from Oklahoma State Athletics.