The last week of the HITS Desert Circuit 2014 was a great one! Once again a lot of medal wins headed by Alexandra Ladove on the USEF Medal, Savanah Dukes in the Jumper phase and Overall WIHS as well as the USET, and Ransome Rombauer with wins in the WIHS Hunter phase and CPHA Foundation.  Shelby Drazan returned with a win the the M&S Medal and Rachel with a win in the CPHA Junior.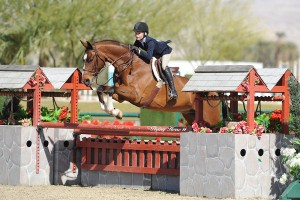 Elli Yeager and Mackenzie Drazan were Champion in each of their Equitation age groups.  Ellie was also 2nd in the Low Junior Hunter Classic aboard Aspen. Lauren Kay and Ohara Saint Clair had just 1 time fault in the $25,000 High Amateur Jumper Classic.
Elli Yeager and Ransome Rombauer received awards for both Grand Circuit Champion and 2nd Half Champion in each of their Equitation age groups. Reserve Grand Circuit Champions went to Morgan Dickerson and Alexandra Ladove.
Great finish Team Healey. We have the nicest group of kids and parents as well as an awesome staff of grooms!