Phase III: Show Jumping
After the challenging Flatwork and Gymnastics Phases on Saturday, twenty-six riders returned for Show Jumping, Phase III, in the hopes of advancing to the Final Four. Course designer Anthony D'Ambrosio set a technical track with 16 efforts in a time allowed of 88 seconds. Reminiscent of today's grand prix and elite jumper level tracks, the course asked many questions and tests of riders, as part of the final's tradition of uncovering emerging young talent to represent the United States in future competition.
D'Ambrosio took this tradition to heart, incorporating elements such as a double and triple combination, a triple bar, liverpool, and the open water, laid out throughout the course and connected by stride counts that asked riders to alternatively collect and open their horses' strides.
Riders returned in reverse order according to the highest combined score from Phases I and II. Fence 8, an oxer with red rails set after the open water, caused the vast majority of rails, followed by fence 3, the liverpool set in the middle of the Grand Prix field. Several riders had a foot in the open water, and a handful accumulated time faults.
Final Four
With the finish of the final phase, both riders and spectators anxiously awaited the Final Four decision of judges Ronnie Beard and DiAnn Langer. The top six riders jogged before the testing began. Nina Vogel, who trains with Far West Farms, jogged in sixth place. A solid jumping round today helped her climb up to from 14th to 6th position. Robert Sean Leckie, who trains with Leslie Steele, also had an excellent ride over today's difficult course. Despite a stop in Saturday's gymnastics phase, he moved up from 18th to jog fifth.
Jogging in fourth place was Mitchell Endicott with Avion. Endicott made huge leaps up the standings throughout the three phases, starting at 22nd after the flat, bounding to 9th after the gymnastics phase, and finishing the three phases in fourth. Michael Williamson, jogged third with Long Island Ice Tea. Williamson earned scores in the 80s in both the flat and gymnastics phases before turning in a clear round with a single time fault in the show jumping phase.
Savannah Dukes jogged in second with Chincharro Z. Dukes also earned high scores in both of the first two phases before jumping clear in the final phase. Sydney Hutchins jogged in the first place spot with Sorcerer. Hutchins came into Phase III with the highest combined score from Phase I and Phase II and solidified her top spot with a smooth show jumping round, scoring only two time faults.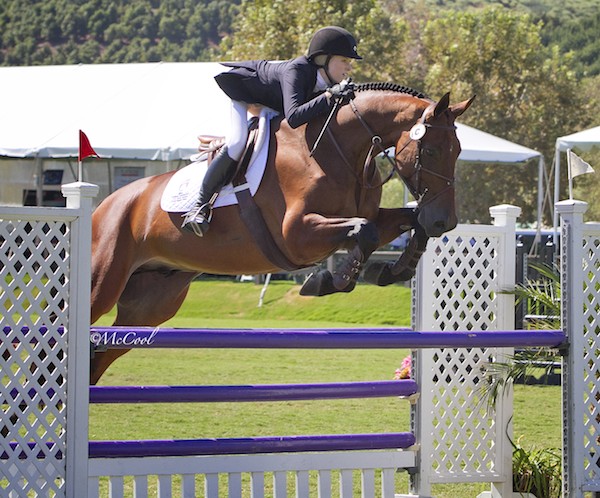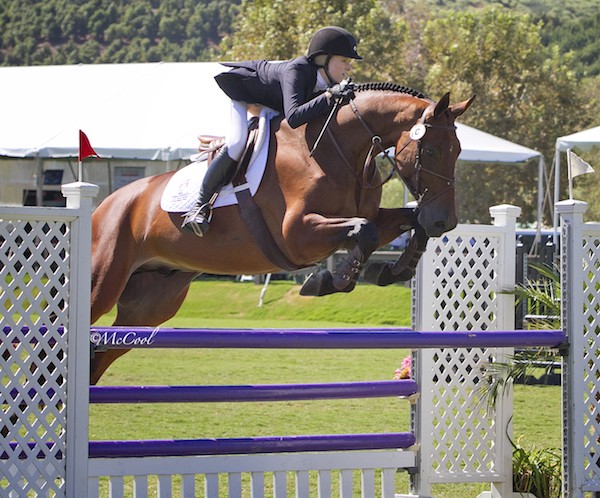 The Final Four featured four rotations, requiring each rider to pilot his/her own mounts first and then each of the other finalists' horses around a shortened course. Consisting of nine efforts in a time allowed of 57 seconds, this course incorporated an entirely new fence layout and included a double combination and several rollbacks and related distances.
Riders were given a short time to warm up in each rotation before navigating the course. In the first rotation on their own horses – Endicott laid down a solid round but with seven time faults; Williamson had a cross-canter incident and was slightly long to fence 7; Dukes had a rail at fence 8, and Hutchins turned in an excellent clear round.
Rotation two began with Williamson piloting Endicott's Avion. An unfortunate stop at fence 4 and a rail at 8 led to a total of 19 faults including the exceeded time allowed. Dukes was next with Williamson's Long Island Ice Tea, and despite a stop in the warm-up ring, completed the course successfully with only a single rail at fence 8. Hutchins returned with Dukes' Chincharro Z and accumulated a single time fault. Endicott finished the second rotation on Hutchins' Sorcerer executing a beautifully clear round.
Rotation three saw the return of Dukes first this time aboard Avion. They had a cross-canter mishap and a rail at fence 8 as well as one time fault. Hutchins and Long Island Ice Tea navigated the course well with two time faults. Third was Endicott on Chincharro Z. A stop at fence 5 and a rail resulted in 16 total faults with 12 faults on the clock. Williamson and Sorcerer ended the third rotation with 4 faults.
The final of the four rotations brought Hutchins back first on Avion. They had trouble with an extra stride before fence 7 but completed the course with two time faults. Endicott and Long Island Ice Tea had a rail at fence 5 and two time faults. Williamson and Chincharro Z were in sync with a lovely clear round. Dukes finished the Final Four testing on Sorcerer and demonstrated another faultless ride to wrap up the series of rotations.
Final Results
The Platinum Performance/USEF Show Jumping Talent Search Finals provide the ultimate canvas for developing young riders to test their skills at a level of competition resembling the top of the sport. Just a few weeks ago four of the best show jumpers in the world contested similarly in the Final Four at the Alltech FEI World Equestrian Games. And as noted above for these top four, rails and time faults played a role in the final results at the Games as well.
After three solid phases and performing well in the final four test, the 2014 championship went to Sydney Hutchins, whose horse Sorcerer was also named Best Horse of the finals. Savannah Dukes was second, with third place awarded to Mitchell Endicott and fourth to Michael Williamson.
Fifteen-year-old Hutchins, of Westlake Village, CA, can add this coveted tricolor to a growing collection of awards, as last week she was also the champion of the 2014 ASPCA Maclay Regionals West. This is Hutchins' second time competing in this final with Sorcerer.
When asked about her favorite horses of the final four, sixteen-year-old Dukes, who has only been partnered with Chincharro Z for the last month, picked her own mount and Sorcerer. This year was also her second year competing in this final.
Sixteen-year-old Endicott, from Rancho Santa Fe, CA, and fourteen-year-old Williamson, of Loomis, CA, were both on horses they've been riding since the winter and were also both competing in this final for the first time.
Platinum Performance/ USEF Show Jumping Talent Search Finals West
Place – Entry – Rider – Horse – Trainer
1. 352 – Sydney Hutchins – Sorcerer – Elvenstar
2. 498 – Savannah Dukes – Chincharro Z – Karen Healey Stables
3. 154 – Mitchell Endicott – Avion – Michael and Christa Endicott with Karen Healey Stables
4. 294 – Michael Williamson – Long Island Ice Tea – Patty Ball
5. 282 – Robert Sean Leckie – Netflix – Leslie Steele
6. 388 – Nina Vogel – Aquino 49 – Far West Farms
7. 195 – Eve Jobs – Emerson – Ben Hey
8. 494 – Kilian McGrath – Salerno – Karen Healey Stables
9. 332 – Miela Gross – Zoe – Emily Esau Williams
10. 293 – Megan Hilton – Laterit – Candida Anthony
Reprinted from Blenheim Equisports.