Karen Healey student Samantha Harrison of La Canada, CA, had a very exciting week of competition at last week's Adequan FEI North American Junior/Young Rider Championships (NAJYRC), held at the Kentucky Horse Park in Lexington, KY. Harrison rode her nine-year-old Dutch Warmblood mare Santika to an individual silver medal and team gold medal representing the Zone 10 junior show jumping team. Karen Healey student Navona Gallegos represented the Zone 8 junior team riding Drossana, and finished in fifth place individually after leading the Zone 8 team to a fourth place finish overall.
The junior competition ended with an exciting finale when the Zone 2 and Zone 10 teams jumped off for the team and individual gold medals. Samantha Harrison jumped clean through every round of individual competition and ended up with the silver medal after the final individual jump-off round. Harrison also jumped clean in both rounds of team competition and then had the only clear round in the team jump-off to secure the gold medal for Zone 10.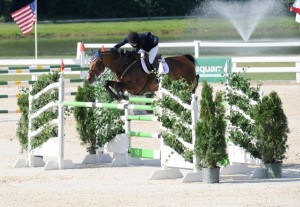 "I had so much fun," Harrison smiled following the competition. "Santika was really, really good. She was jumping fabulous, and she was really on top of her game all week. My team did really well, and it was a very close competition between Zone 10 and Zone 2. I loved riding on the team; my teammates were all really nice and funny and the whole thing was a great experience."
Harrison noted that she really enjoyed having the opportunity to ride in the brand new stadium that was recently built at the Kentucky Horse Park in preparation for the 2010 Alltech FEI World Equestrian Games. "It was so beautiful there," she stated. "My favorite thing was riding in the ring because it was huge and the footing was awesome. It poured really hard one day that we had to show, and the footing wasn't affected at all."
"I loved the stadium," Harrison continued. "All of the bleachers were so nice and walking into the ring it felt like you were meant to be there; it just felt so special. There were a lot of press there and they asked us all questions after we got our medals, so it felt like a really big deal and it was such a fun experience."
Harrison added a special acknowledgement, stating, "I just want to say thank you to Karen Healey, and my mom, who was there. I would also like to thank Butch Thomas, the Chef d'Equipe, who was awesome, and everyone who participated in Zone 10. It was amazing."
After an intense week of competition, Harrison and Santika will now take a well-deserved break before preparing for the fall show season. Harrison's goals for the rest of the season include a possible trip back to the east coast to compete in the Prix de States Junior Jumper competition at this year's Pennsylvania National Horse Show.
Karen Healey Stables will compete next at the Showpark August Festival, which runs July 29-August 2 at the Del Mar Horse Park in Del Mar, CA.
Reprinted with permission from Phelps Media Group.