Ingalls, Browne and Nagler Top CPHA Foundation Finals
Del Mar, CA – The Showpark Summer Classic hosted the second rounds of the California Professional Horseman's Association (CPHA) Foundation Finals on Sunday, wrapping up the three sections of competition. Divided into 22 & over, 21 & under, and 14 & under age divisions, riders of all ages brought their medal finals game to Del Mar this weekend. Esteemed judges Robin Fairclough and Scott Williamson scored, tested and ultimately awarded the final placings.
Browne Brings Home the Blue in the 14 & Under
Round 1 for the youngest division started on Saturday afternoon, with 31 entries showcasing their equitation skills. First place went to Madison Myro aboard Gff Tizz Cassina with exemplary scores of 87 and 86 for a first-round average of 86.5. Second went to Kayla Lott on Vancouver with another high first-round average of 84, while Katie Browne on Chadwick earned third with an 82.875. Just behind Browne in fourth for the first round was Tali DeJong on Spero with an 82.75, while fifth went to Tylor Nowell on Nonchalant with an 82.00.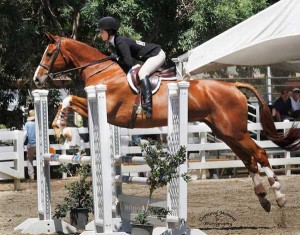 The excitement mounted for the younger division as Round 2 began on Sunday morning, with all 31 riders returning to try and earn one of the eight places in the work-off. The 14 & under and 22 & over age divisions had identical courses, so the younger group had the advantage of watching the earlier rides.
Four of the top five from Round 1-Myro, Lott, Browne, and Nowell – all turned in impressive scores in Round 2, which, combined with Round 1, earned them high total average scores to qualify for the work-off. Grady Lyman, Dorothy Kauffman-Skloff, Nicole Leonard, and Katie Aoki also each had high total average scores to fill the other four work-off spots.
This work-off differed from that of the older age division, and included both options at 7a-b and trot jump 6, as well as a tricky counter-canter. Several entries had trouble accomplishing the counter-canter, which was set off a tight rollback after the trot jump.
The overall top prize went to Katie Browne, who earned a spectacular work-off score of 86 for a cumulative total of 169.69. Reserve champion was awarded to Kayla Lott, who had a grand total of 166.19. A solid work-off score catapulted Dorothy Kauffman-Skloff's grand total to 164.13 and the third place, rounding out the top three places on the winners' podium.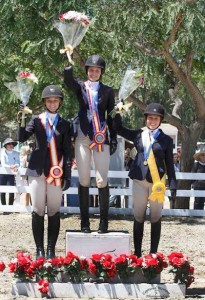 Glowing from the thrill of her first big medal win, Browne enthusiastically shared her thoughts on the course. "The track was really nice and challenging, I thought it put us all to the test. The work-off was a great test, I was a little nervous going in but it went as well as I could've hoped!" she said.
Browne trains with the team at Karen Healey Stables. "This is actually the first show I've done on Chadwick. Linda Ladove owns him and I started riding him a couple of weeks ago. I just fell in love with him, his personality, he's so much fun to ride. He took great care of me."
Browne is headed to Onodarka Finals, PCHA Finals, and Rosewood Finals within the next couple months and hopes to compete in the Big Eq in the upcoming years.
CPHA Foundation Finals 14 & Under
Place – Entry No. – Rider – Trainer
1. 237 – Katie Browne – Karen Healey
2. 774 – Kayla Lott – James Hagman
3. 634 – Dorothy Kauffman-Skloff – Ginny Plancke
4. 274 – Madison Myro – Judy Nielson
5. 397 – Katie Aoki – Jan Hainze
6. 113 – Tylor Nowell – Nina Alario
7. 305 – Grady Lyman – Richard Slocum
8. 504 – Nicole Leonard – Shayne Wireman
9. 578 – Lexie Looker – Nick Haness
10. 239 – Elli Yeager – Karen Healey
CPHA Foundation Finals 21 & Under
Place – Entry No. – Rider – Trainer
1. 836 – Julia Nagler – Benson Carroll
2. 773 – Halie Robinson – James Hagman
3. 182 – Melanie Selleck – Archibald Cox
4. 351 – Savannah Dukes – Karen Healey
5. 425 – Hadley Boyd – Kost Karazissis
6. 586 – Maile Burtech – Penny Wahler
7. 495 – Summer Hill – Andrea Simpson
8. 731 – Peyton Warren – Jill Humphrey
9. 502 – Blythe Bonan – Richard Widger
10. 818 – Phoebe Coffin – Diana Yeater
Reprinted with permission from Blenheim Equisports